Image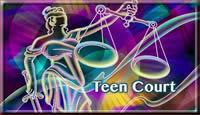 Teen Court is an exciting program that allows the youth of Lassen County to directly impact their community through community service and juvenile justice. The program encourages responsibility, accountability and lifelong civic engagement.
Teen Court Program Announcements
Three components to the Teen Court Program:
Educational Component
Volunteer Component
Juvenile Diversion Component
Educational Component
The school curriculum is designed as a one-week unit and includes lessons based on Juvenile Law that are featured in the Juvenile Justice Handbook. The Juvenile Justice Handbook, which is provided to Lassen County High Schools, presents general concepts about juvenile law and information about how these laws may affect them. Well-equipped teachers present the material in the Juvenile Justice Handbook and facilitate discussion amongst students. The students are then tested on their knowledge of the material. The educational component wraps up with a discussion led by professionals from various aspects of the justice system.
In the discussion portion of the program, Probation Officers, Judges, District Attorneys, Public Defenders, Peace Officers, and the Teen Court Coordinator provide information and answer questions about the handbook curriculum and the Juvenile Justice System in a classroom setting.
Service Learning is a method of teaching, learning and reflecting by integrating classroom curriculum with community service. Service learning encourages civic responsibility, civic engagement and strengthens communities for the common good. Service learning has been endorsed by the U.S. Secretary of Education, as well as the California Department of Education, and is recognized in the Teen Court Program and its curriculum.
Volunteer Component
Teen Court student volunteers are the foundation of the Teen Court Program. Each year, on average, 75 to 100 Lassen County High School students volunteer to participate in the Teen Court Program. They receive three nights (nine hours) of initial training in various aspects of the Justice System including Jury Deliberations, Confidentiality, Bailiff and Court Clerk Duties and Instruction on being a Teen Court Attorney. This training is facilitated by professionals who work in the Justice System. Once these students complete the initial training, they become Teen Court Commissioners. Teen Court Commissioners will continue to receive ongoing training each month throughout the school year. Many of these Teen Court Commissioners annually volunteer well over fifty hours of service as they participate in Teen Court Hearings and various community events.
Juvenile Diversion Component
Teen Court is a diversion program that allows qualifying juveniles to deal with a criminal citation outside the formal judicial system. The goal of Teen Court is to provide qualifying juveniles an opportunity, through direct and active participation in Teen Court, to learn to accept responsibility for their behavior and accountability to the community, while enhancing their respect and understanding of the judicial system
Mandatory Disposition Requirements
Every juvenile participating in the Teen Court program is required to serve at least two times as a Teen Court juror.
Each juvenile is required to complete a Four (4) hour Juvenile Diversion Class
Additional Disposition (Sentencing) Options
Additional Teen Court jury service. (up to five)
Write a letter/s of apology
Perform Community Service (10 hours min. / 50 hrs. max)
Write an essay on a topic selected by the jury
Take a tour of the Lassen County Adult Detention Facility
Participate in a ride along with a law enforcement officer
Participate in a juvenile alcohol or drug program
Suspension of driver's license for thirty days to twelve months
Be subject to search and seizure for thirty days to twelve months
Other consequences as deemed appropriate within the guidelines of the court.